Marino's Seafood Fish & Chips
Lightly battered and deep-fried "Calabash" style fish, served with thick-cut fries and two sweet hushpuppies. Add a side of our homemade coleslaw, and you'll taste why ALIVE magazine awarded us the best Fish & Chips!
We are located on 5th Avenue in Grandview, Ohio, and have been serving central Ohio for over 25 years



A different seafood special every day



All-you-can-eat fish, chips, hushpuppies, slaw, and fountain drinks all day Saturday



Our fish & chips are a great alternative to same old same old burgers, pizza, and tacos. And you'll love our crab cakes.


Take-out or dine-in, our service is fast and friendly, and the food is fantastic! The staff and I look forward to serving you and making you not only a customer but a friend.
Harry Kougendakis, Owner
I've been coming here for years! This is the best Fish & Chips in town. This is the only place my husband will eat.
John and Flossie
We like to go to Marino's because they have the best Fish & Chips in town and at a reasonable price, along with the friendliest service.
Ron and Fae
I've been coming here forever. The food and service is just great. I feel as if they're family!
Joe
Definitely the best Fish & Chips in town! I've been here so many times I've lost track and it's always wonderful!
Anonymous
The staff is always friendly, the dining room is super clean and the Fish & Chips are #1!
Betty
I compare the poached fish to a filet mignon... consistently delicious. I have been coming in for lunch on Fridays for years.
Anonymous
The atmosphere is always friendly and the place is spotless!
Jared
Harry and his crew make you feel like you're part of the family! The food's great too!
Carole
Download Our Menu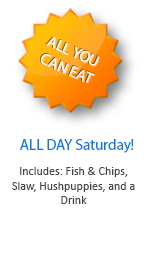 Fish & Chips
Soups Made Daily
Mediterranean Baked
Fish Dinner
Fresh Salads
1216 West 5th Avenue | Columbus, OH 43212 | Phone: (614) 481-8428 | Fax: (614) 481-8428